RECRUTO SOFT RELEASES NEW FEATURES!
Automatic removal of candidates
We are launching a function for automatic removal of candidates in the recruitment tool. You as superadmin have access to the new functionality via the Control Panel -> Automatic removal. There you can, at portal level, set how long you want to save candidates before they are automatically removed and anonymized.
If you choose to add a candidate to the candidate bank, the deletion is based on the time stamp from when they applied for a specific ad, applied spontaneously or were otherwise included in the tool. One month before a candidate is approaching removal (assuming it is in the candidate bank), an e-mail will automatically be sent out along with a link that the candidate needs to click to give his consent for further processing. There is a predefined text (see screenshot below) that you can adjust according to your taste and taste. Be sure to leave the __confirmLink__ variable intact to allow your candidates to accept continued processing of data.
Note The script for automatic deletion will not be activated until May 24. In this way you can form an idea of ​​how automatic removal works and and determine what interval you should choose for automatic removal. Even if you set "Yes" as shown below and delete after X number of months, we do not activate the deletion itself until May 24. We will send a reminder message regarding this activation.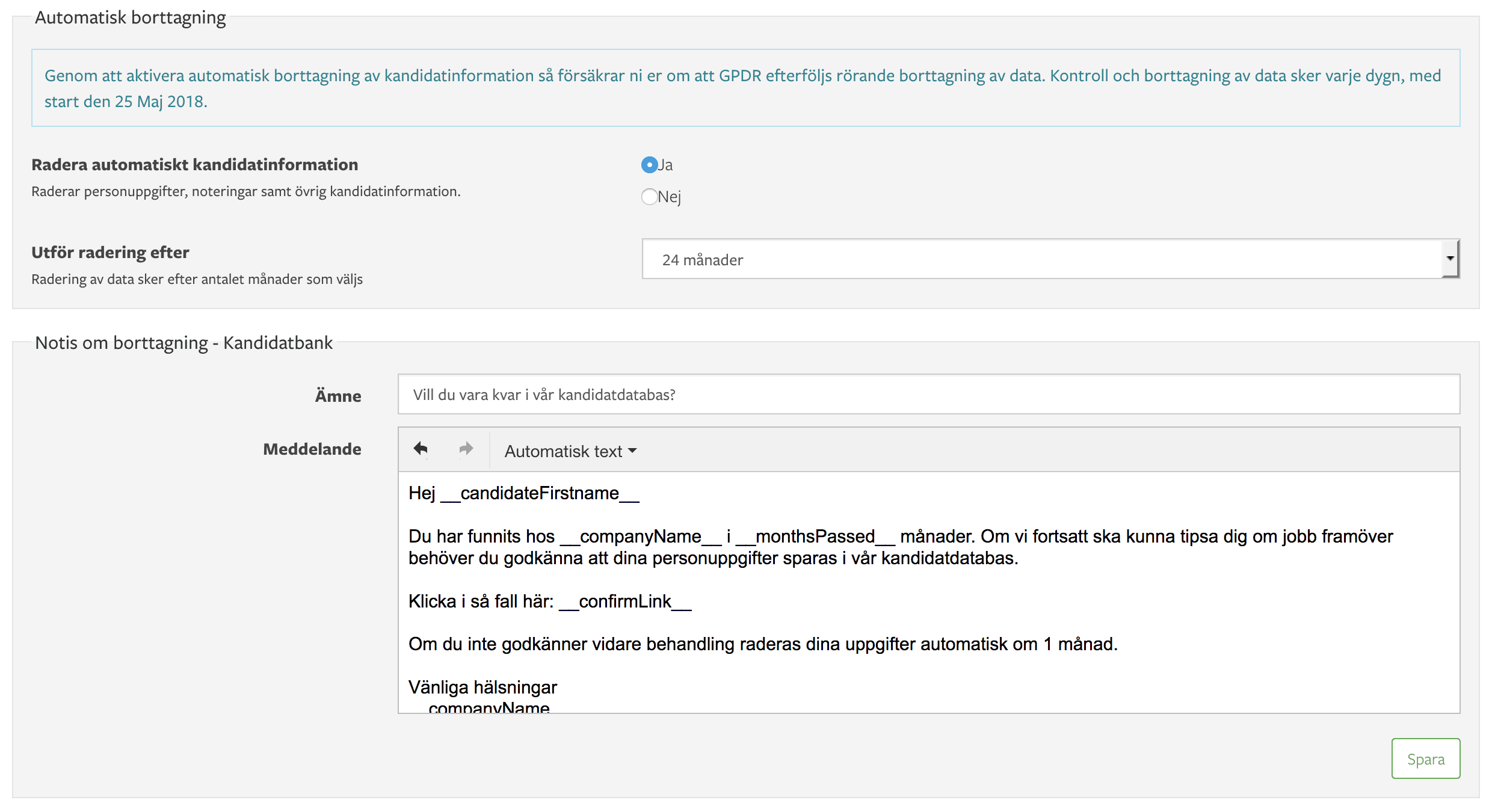 When candidates are removed, the possibility of continuing to reach the candidates disappears, this is the whole idea. What remains, after all, is a line that says "Automatically deleted" and such info that cannot be used to link to a particular person. Completely in accordance with GDPR. So you will still be able to see how many applications have been received for a particular advertisement and also some other info (see picture below).

New functionality around Policy-text upon consent
The policy text that candidates meet and need to approve when registering an application has been updated from our site to match the new requirements of the GDPR for consent. It is important to mention that this predefined text can be adjusted for each customer. In the past, it has been a static letter, common to all customers. To adjust the policy text go to Control Panel -> Application Form and scroll down at the bottom. There are some variables that make sense to keep intact such as "__autoRemovalMonths__". This variable generates the number of months you set for automatic deletion. Keep in mind that this text is general to your portal and that it has impact throughout the system.
Note Even if you change the text, it will not have a sharp impact until May 24. Until now, the current text remains. You therefore have time to adapt text according to your conditions and wishes.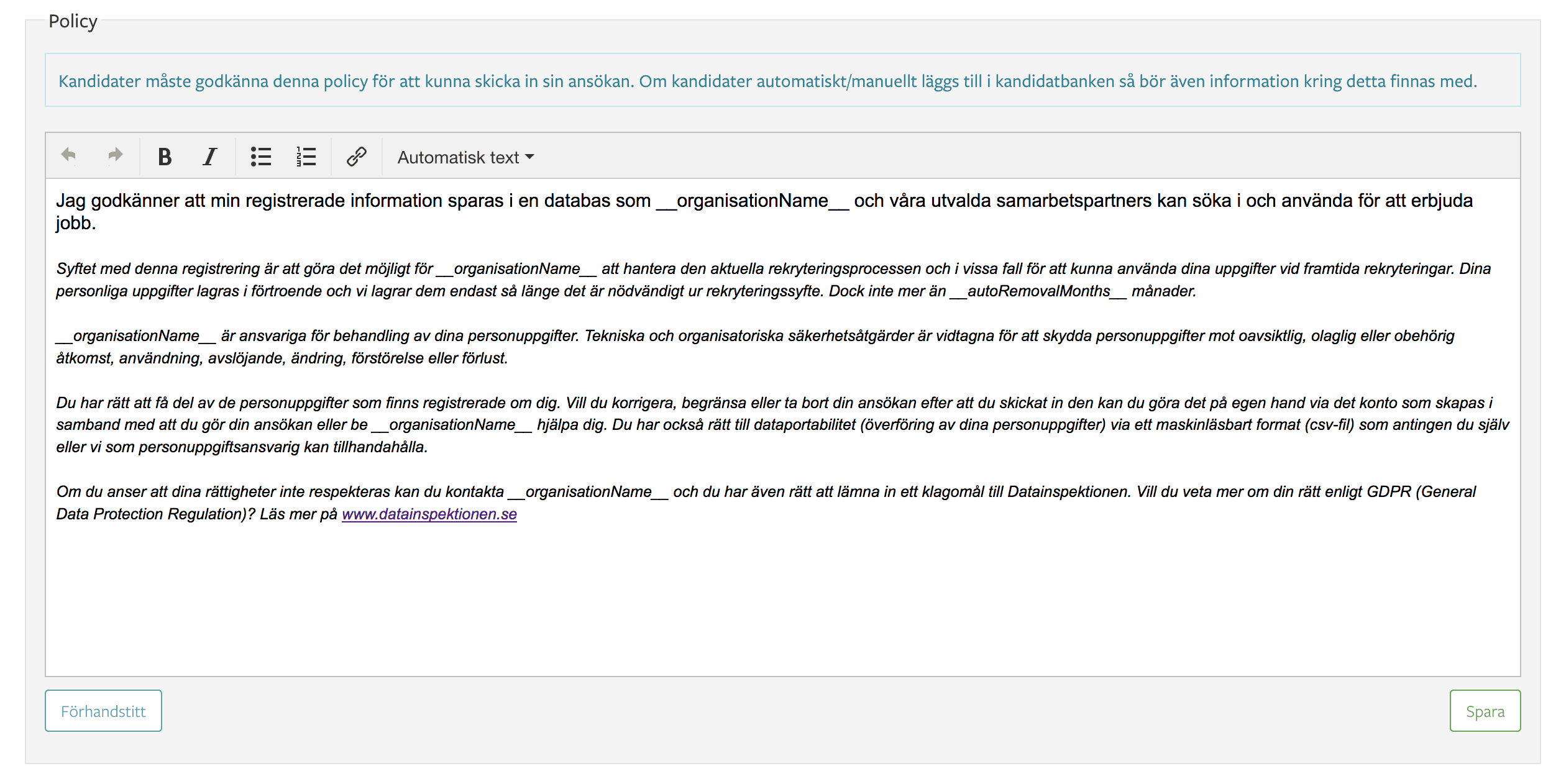 Enabling data portability
In some cases, your candidates have the right to transfer their personal data to another personal data manager (so-called data portability). We enable the data subject to obtain his / her registered data in a structured, widely used and machine-readable format (csv file) that you as a personal data manager can generate. It is also possible to export the information to pdf format if the processed wishes so.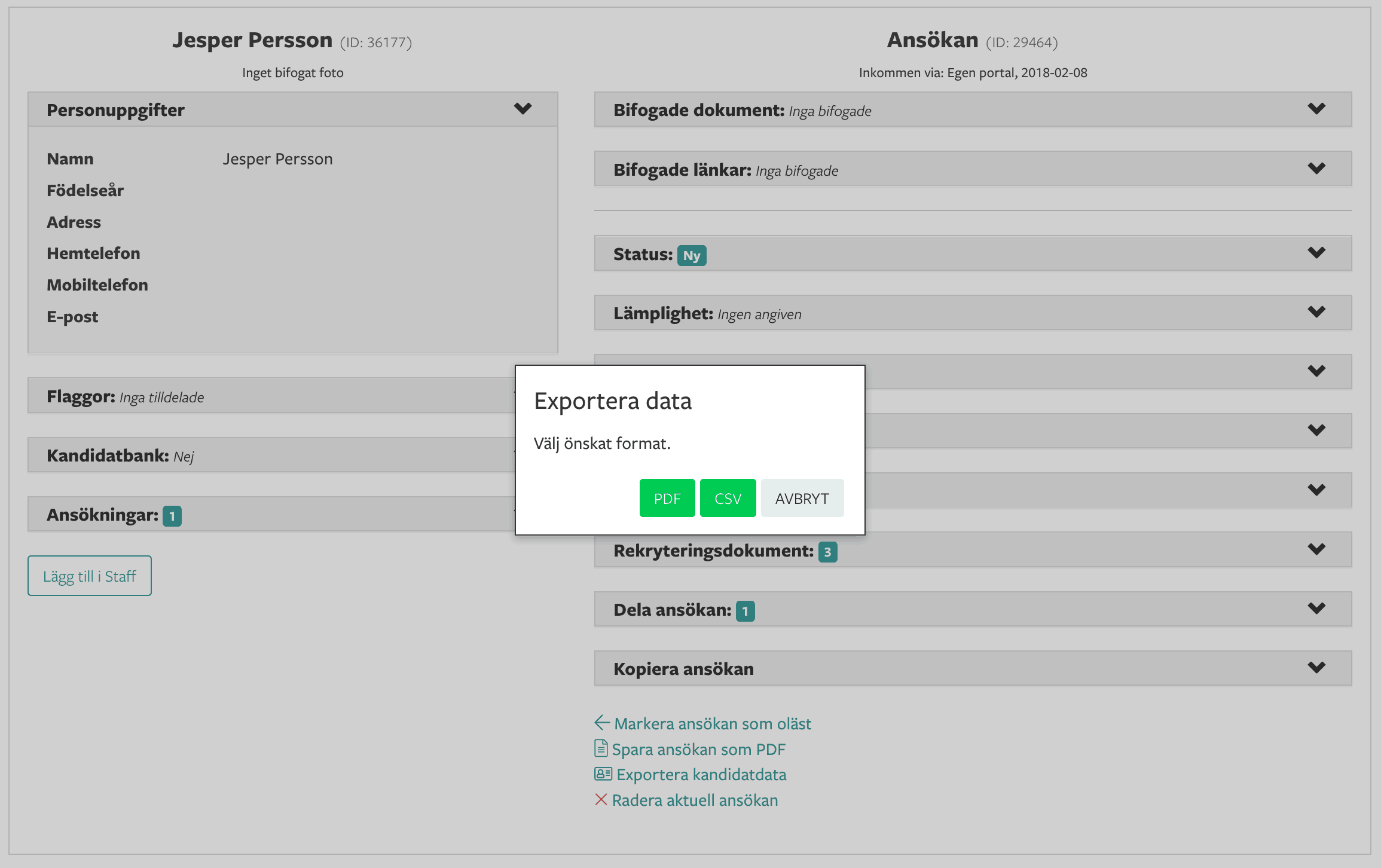 Finally
We will continue to develop Recruto to facilitate compliance with GDPR for you as a customer so that you in turn can fulfill the new rights that need to be provided to the registered person. There is a general summary of the GDPR for those who want to get further into the subject. This text can be found via the Control Panel -> Automatic removal but also here.
Please contact info@recruto.se if you have any questions about GDPR or call 031-799 90 65